Cost of Fighting Wildfires in Oregon Far Ahead of Last Year's Pace
Posted On August 10, 2018
The estimated cost of fighting Oregon wildfires this summer stands during some-more than $180 million.
That's $30 million some-more than during a same time final year.
The Mail Tribune reported that 75 percent of those dollars have been spent on fires in southern Oregon, where remote and imperishable forest areas have done it quite formidable to stamp out some-more than a dozen vital blazes.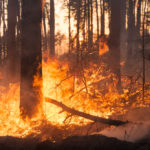 The income spent on glow termination pays for crews, equipment, reserve and costly aerial support.